Discover the new Tottenham 23-24 home kit, inspired by the rich sounds of N17 and the nation's broadcasting history. Dive into its unique design, color palette, and thoughtful approach towards player comfort.
Tottenham's 23/24 kit was released today, June 8th, 2023. The new Tottenham 23-24 home kit is inspired by the sounds of N17 and the nation's broadcasting history.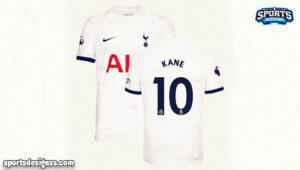 Tottenham 23-24 Home Kit: 
This picture shows the new Nike Tottenham home shirt for 23-24. The Nike Tottenham 2023-24 shirt features the club's most classic color combo – white and navy. There is no Volt, in contrast to the kits of the 2022-23 and 2020-21 seasons. Placed inside the collar are the initials 'THFC'.
Innovative Graphic Design
What makes the Tottenham 23-24 home kit unique is the graphic design. It has a subtle all-over graphic design of different shapes, including circles, diagonal lines, and squares. The linework pattern is inspired by the vibrant music scene and streetwear of the Tottenham borough.
Contrary to initial rumors, the Spurs 23-24 home kit does not feature any iridescent logos. Only the Tottenham 2023-2024 away kit has iridescent logos.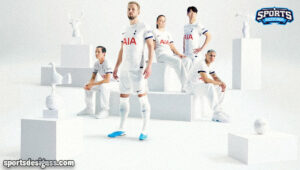 Typography and Special Considerations
Tottenham also released an all-new Cup kit typeface. Of course, the team also uses the new 2023 Premier League Kit font.
The 2023-24 Tottenham Hotspur home kit is combined with white shorts and white socks, typically reserved for European matches. It is the first time since the 2012-13 season that Tottenham has an all-Lilywhite Home Kit. Meanwhile, the Women's team will wear navy shorts.
Supporting Female Athletes
In response to player feedback and the general move away from white shorts by female athletes across all sports, the Club and Nike will support our Women's team in wearing alternate blue shorts with our new home kit to provide the best possible environment for comfort and performance during the menstrual cycle. The navy shorts will not be available for retail purchase.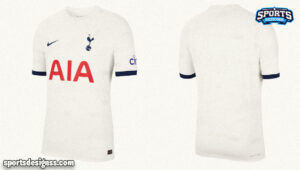 Tottenham 23-24 Goalkeeper Home Kit
The Nike Tottenham Hotspur FC 23-24 home shirt was released on 8 June 2023 at the club's store and Nike.com.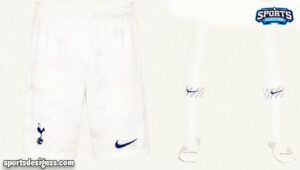 FAQs
What is the release date of Tottenham's 2023-24 home kit?
What inspired the design of the Tottenham 23-24 home kit?
What colors are featured in the 2023-24 Tottenham home kit?
Are there any special design elements in this kit?
Is there an iridescent logo on the Tottenham 23-24 home kit?
Tell me more about the typography and fonts used in the kit.
Why is the choice of white shorts and socks significant for Tottenham?
What is the reason behind the Women's team wearing navy shorts with the home kit?
When and where can I purchase the Tottenham 23-24 goalkeeper home kit?
How does this kit represent a fusion of tradition and innovation for Tottenham Hotspur?