Puma Font 2018-19: The Universal Typeface for World Cup 2018
Explore the Puma Font 2018-19, used by national teams like Senegal, Switzerland, Uruguay, and Serbia during the World Cup 2018. Learn about its features, compatibility, and how to use it. Find out how this iconic font added a unique touch to the World Cup jerseys, only on SportsDesigns.com.
When it comes to the world of sports, every detail matters, even down to the typography used on jerseys. The Puma Font 2018-19 became an integral part of the World Cup 2018, adding a touch of uniqueness to the national teams' jerseys, including those of Senegal, Switzerland, Uruguay, and Serbia. In this article, we'll delve into the details of this iconic typeface, its features, and its significance in the world of football.
The Puma 2018 Universal Font for World Cup 2018
The Puma Font 2018-19 is a typeface designed specifically for the jerseys of national teams participating in the FIFA World Cup 2018 held in Russia. It wasn't just a font; it was a statement. National teams endorsed by Puma, such as Senegal, Switzerland, Uruguay, and Serbia, embraced this unique typeface to showcase their identity on the world stage.
Key Features of Puma Font 2018-19
TTF and OTF Files: The Puma 2018 font is available in both TTF (TrueType Font) and OTF (OpenType Font) file formats. This versatility ensured compatibility across different platforms and devices, making it accessible to a wide range of users, both on Windows and Mac OS.
Easy to Use: Incorporating the Puma 2018 font into the jerseys was a breeze. All it required was a simple keystroke on the keyboard. This ease of use allowed national teams to effortlessly add a distinct visual element to their jerseys.
The Significance of Typography in Sports
Typography plays a crucial role in sports branding. It's not just about displaying numbers and names on jerseys; it's about creating an identity that fans can connect with. The Puma Font 2018-19 did just that. Its bold, modern design echoed the spirit of the game and the pride of representing one's nation.
Using Puma Font 2018-19
To incorporate the Puma Font 2018-19 into your design projects, you can obtain the TTF and OTF files. These vector fonts are versatile and can be used for various creative purposes beyond jerseys. Whether you're designing promotional materials, fan merchandise, or digital content, this font adds a touch of the World Cup's excitement to your work.
External Resources and Further Reading
To explore more about typography in sports branding and the impact of fonts like the Puma Font 2018-19, you can check out the following external resources:
FIFA Official Website – The official source for World Cup updates and news.
Puma Official Website – Learn more about Puma's involvement in the world of sports.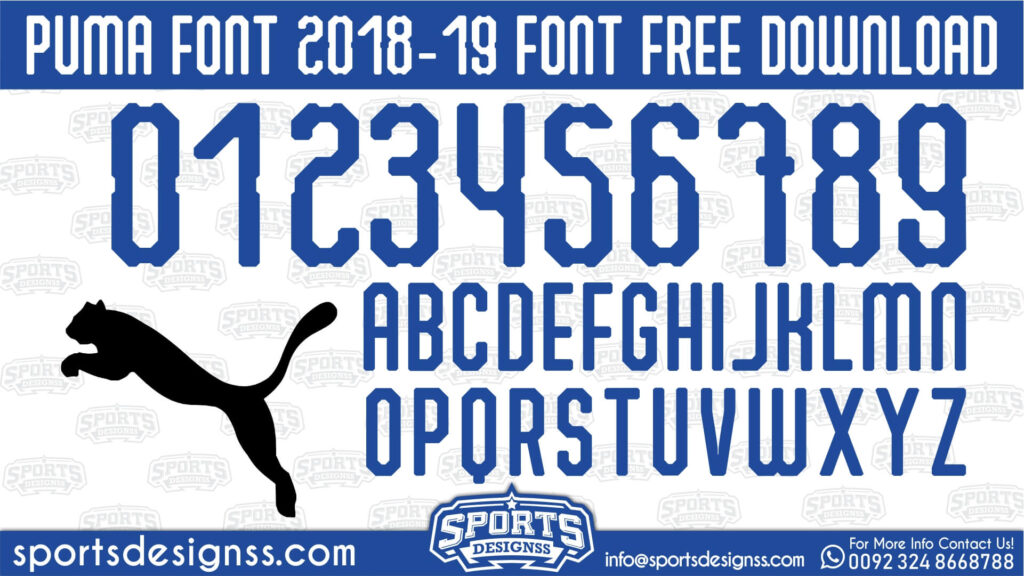 Watch this video for Password:
Conclusion
In the world of sports, every detail counts, and the Puma Font 2018-19 played a pivotal role in elevating the visual appeal of national team jerseys during the World Cup 2018. Its bold and modern design, compatibility, and ease of use made it a popular choice among teams and designers alike.
As fans, we may not always pay close attention to the typography, but it's these subtle design choices that contribute to the overall magic of the game. So, the next time you watch a World Cup match, take a moment to appreciate the artistry behind the numbers and names on those jerseys and remember the iconic Puma Font 2018-19 that added its unique touch to the beautiful game.
For more exciting updates on sports design and typography, stay tuned to SportsDesigns.com.