"Read about Nicolas Jackson's shirt mishap during Chelsea's debut match in the new Nike 23-24 third kit. Explore the unusual knitting pattern and potential risks behind these jerseys."
In the world of football, every detail matters – from the strategy on the pitch to the jerseys that the players wear. Recently, Chelsea's debut of their new third kit took an unexpected turn when Nicolas Jackson's shirt was torn during a match against Bournemouth. This wardrobe malfunction not only caught the attention of fans but also raised questions about the quality and durability of Nike's 23-24 third kits.
The Torn Shirt Incident:
In the midst of a ball dispute, Marcos Senesi inadvertently tugged on Nicolas Jackson's shirt, resulting in a substantial tear at the back. This incident was highly unusual, especially considering that Nike football kits are renowned for their robustness and durability. What makes this situation even more perplexing is that it occurred with the brand-new third kit, which features a distinct knitting pattern compared to the other shirts of the 23-24 season. The torn jersey begs the question: Is this an isolated incident, or should we brace ourselves for more ripped Nike 2023-2024 third kits?
The Knit Pattern Mystery:
To understand this unexpected tear, it's essential to delve into the specifics of the Nike 23-24 Elite Team Third Kits. Unlike previous designs, these kits prominently feature a vertical knitting pattern. While this pattern is undoubtedly stylish, it may have inadvertently increased the risk of tearing during intense match situations.
Comparing the Competition: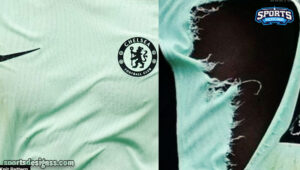 To put this incident in perspective, we can look at other brands in the football kit market. Castore, for instance, has already encountered a series of torn jerseys this season. This recurring issue suggests a broader problem with football kits for the 2023-2024 season, not limited to just one manufacturer.
Closing Thoughts:
The torn Nike shirt worn by Nicolas Jackson has ignited a discussion within the football community. Is this tear an anomaly or a sign of a larger issue with the new knitted pattern of the Nike 23-24 third kits? As fans and enthusiasts, we eagerly await further developments and hope for solutions that ensure both style and durability on the football pitch. Share your thoughts on this incident in the comments below.
FAQs
What exactly happened to Nicolas Jackson's shirt during the match?
Nicolas Jackson's shirt was torn when Marcos Senesi inadvertently pulled it during a ball dispute.
Why is this incident significant for Chelsea fans?
This incident raised concerns about the quality and durability of Chelsea's new Nike 23-24 third kit.
Was this the first time a Nike football kit tore?
It's highly unusual for Nike football kits to rip, which makes this incident noteworthy.
What makes the new third kit different from previous seasons?
The new third kit features a unique knitting pattern, setting it apart from previous Chelsea kits.
Could the knitting pattern be related to the tearing issue?
The vertical knitting pattern in the new Nike 23-24 kits may have inadvertently increased the risk of tearing.
Are other football kit brands experiencing similar issues?
Yes, brands like Castore have also reported torn jerseys this season, suggesting a broader problem in the industry.
Has Nike addressed the incident or provided any explanations?
As of now, there hasn't been an official statement from Nike regarding this specific incident.
What do fans and experts think about the torn shirt incident?
The incident has sparked discussions and speculations within the football community about its causes and implications.
Are there any potential solutions to prevent such incidents in the future?
Experts are likely to explore design modifications to enhance the durability of football kits with unique knitting patterns.
How can fans stay updated on developments related to this incident?
Fans can keep an eye on news outlets and official statements from Chelsea and Nike for updates on this incident and any subsequent actions taken.