Discover the stunning details of Everton Football Club's 23-24 home and goalkeeper kits by Hummel. From architectural inspirations to unique design elements, explore the new looks for the upcoming season.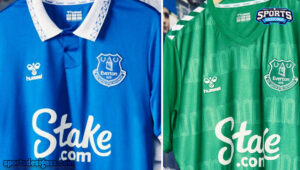 In the world of football, the unveiling of a club's new kits is always a momentous occasion. Everton Football Club, steeped in history and tradition, continues to capture the hearts of fans with their iconic blue jerseys. This time, Hummel, the official kit supplier, has taken inspiration from architectural marvels and the club's rich heritage to design Everton's 23-24 home and goalkeeper kits. Let's take a closer look at the details that make these kits stand out.
Everton 23-24 Home Kit
A Blend of Tradition and Innovation
The Everton 23-24 home kit maintains the club's classic blue color, which has been a symbol of pride for the Toffees for generations. However, Hummel has added a touch of innovation with a subtle yet striking twist.
Architectural Inspirations
The standout feature of this kit is the white collar, adorned with an intricate pattern inspired by Archibald Leitsch's architectural designs. This captivating pattern not only pays homage to Everton's rich history but also adds a touch of sophistication to the jersey.
Attention to Detail
The same architectural pattern can also be found on the white sleeve cuffs, ensuring a harmonious design throughout the kit. Hummel's trademark chevrons, in white, grace the shoulders, adding a sporty element to the jersey's overall elegance.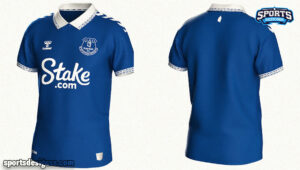 Options for Fans
For fans who prefer long-sleeved jerseys, there's good news. The Everton 23-24 home kit is also available in a long-sleeved version, allowing supporters to choose the style that suits them best.
Complete Look
To complete the uniform, the kit is paired with white shorts and socks, creating a sleek and cohesive appearance on the pitch. For matches that require an alternate look, blue shorts are available as an option.
Everton 23-24 GK Kit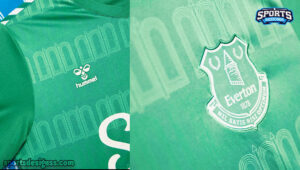 Celebrating St. Luke's Church
The Everton 23-24 goalkeeper kit is a nod to the club's local heritage and landmarks. Inspired by the iconic St. Luke's Church, this kit features a vibrant green base adorned with repeating arch designs on the front.
Clean and Monochrome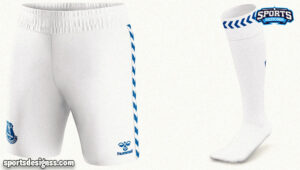 To maintain a clean and modern look, the logos on the goalkeeper kit are monochrome white, complementing the green base perfectly.
The Full Ensemble
Green shorts and socks complete the goalkeeper's uniform, ensuring that Everton's shot-stoppers will look as sharp as ever while guarding the goal during the 2023-2024 season.
In conclusion,
Hummel's design prowess shines through in Everton's 23-24 home and goalkeeper kits, paying tribute to architectural brilliance and local heritage. These kits are not just sportswear; they are symbols of pride and tradition for Evertonians worldwide, embodying the spirit of the club. Whether you're a fan of the classic blue or prefer the goalkeeper's vibrant green, these kits are sure to make a statement on and off the pitch.
FAQs
What is climate change, and why is it a concern?
Climate change refers to long-term shifts in temperature, weather patterns, and the overall climate of the Earth. It's a concern because it can lead to more frequent and severe natural disasters, rising sea levels, and disruptions to ecosystems.
How can I improve my digital security?
You can improve your digital security by using strong, unique passwords, enabling two-factor authentication, keeping your software up to date, and being cautious about clicking on suspicious links or downloading files from unknown sources.
What are the benefits of regular exercise?
Regular exercise has numerous benefits, including improved cardiovascular health, weight management, reduced stress, increased energy, and enhanced mood.
What is artificial intelligence (AI) and how does it work?
Artificial intelligence is a field of computer science focused on creating machines that can perform tasks that typically require human intelligence. AI systems use algorithms and data to make predictions and decisions.
How can I start a small business?
Starting a small business involves creating a business plan, securing financing, registering your business, and building a customer base. It's essential to research your market and have a clear strategy.
What are the key principles of effective time management?
Effective time management involves setting clear goals, prioritizing tasks, using tools like to-do lists and calendars, eliminating distractions, and learning to say no when necessary.
What is sustainable living, and how can I adopt it?
Sustainable living involves reducing your environmental impact by conserving resources and reducing waste. You can adopt it by using energy-efficient appliances, reducing single-use plastics, conserving water, and supporting eco-friendly products.
How does meditation benefit mental health?
Meditation can benefit mental health by reducing stress, anxiety, and depression. It promotes relaxation, mindfulness, and improved emotional well-being.
What is a cryptocurrency and how does it work?
Cryptocurrency is a digital or virtual form of currency that uses cryptography for security. It operates on a technology called blockchain, which records all transactions in a decentralized and transparent manner.
How can I develop effective communication skills?
Developing effective communication skills involves active listening, empathy, clear and concise expression, body language awareness, and adapting your communication style to different situations and audiences.